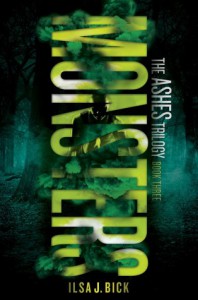 The
Ashes
trilogy is better than any summer action flick. Cascading explosions and monsters and dangers fairly leap off the page, as vividly as if they were splashed across the big screen. I gulped down this entire trilogy in a matter of days, and was ever thankful that I could race from one cliffhanger to another until I'd reached book three.
I was fascinated by Alex from page one of ASHES, and MONSTERS brings her story to glorious fruition. By this point in the series Bick has a lot of characters in motion, and she makes good use of the 800 plus pages of MONSTERS to give each story their due. Some pieces of the story worked for me better than others. The continued development of the Changed was awesome as well, making this series ever so much more complicate than just another zombie apocalypse tale. Disaster makes some characters heroic, others detestable, but all retain a spark of sympathy and humanity that is undeniable. The action in MONSTERS is, as ever in the series, completely flawless. I jumped, squeaked, gasped and flinched as if the violence and action were happening right before my eyes.
While the fast pace of these books was instrumental in building it's heights and impact, it also helped gloss over some low points. I loathed Ellie for much of book one, and never felt that the small town secrets and politics of this series really came together in a believable whole. Bick's own habit of referencing the fourth wall makes it all the more painful when she pushed my credulity, making it hard to ignore the author behind the curtain pulling strings.
MONSTERS may be the end of the series, but it by no means cuts off the story. Bick spends as much time opening doors to new possibilities as she does bringing the action to a satisfying pause, but it's clear that this fade to black could be as pregnant a pause as a gap between chapters. Hopeful and enthralled, I'll be daydreaming about Alex and Tom and the Changed for years to come.
Sexual Content: A kiss and a reference to sex.